Topic

Coronavirus

Duke scholars are working to advance our understanding of COVID-19, from basic science to translational medicine to clinical care—as well as to address concerns related to the pandemic from a variety of disciplines.
Top Story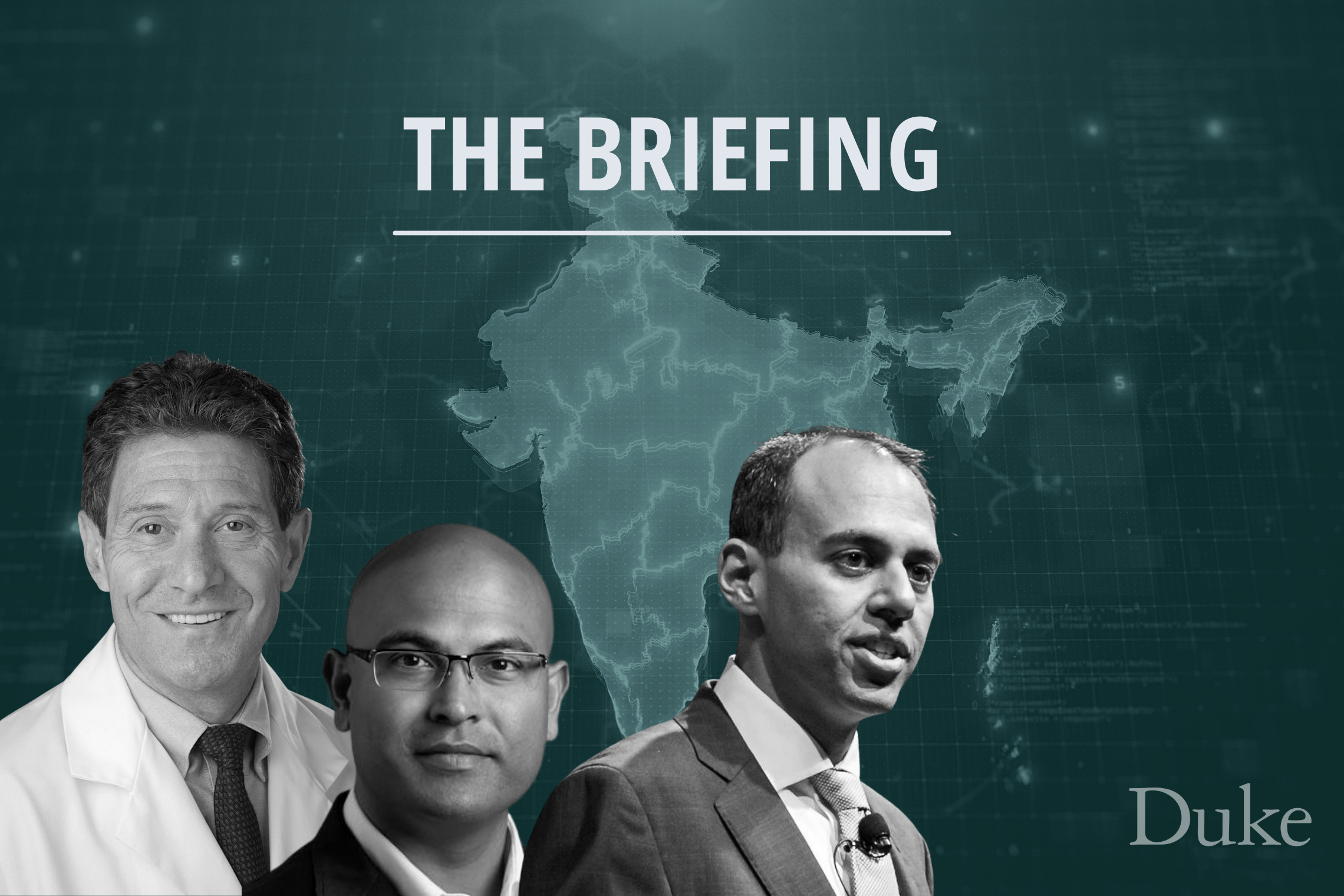 Failed Leadership, Late Assistance Behind India's COVID Crisis, Experts Say
India is the epicenter of the COVID-19 pandemic.
Recent Stories
Updated Masking Requirements on Campus

Effective immediately, Duke University will not require students, employees or visitors to wear masks or face coverings while outdoors, with the exception of crowded areas and gatherings where social distancing is not possible.

Global Health

Infectious Diseases, Pandemic Threats and Prevention Gregory Gray, professor of medicine, global health and environmental health.

One Student, Three Faculty/Staff Test Positive for COVID, April 19-25

Duke University's comprehensive COVID-19 testing and contact tracing program administered 18,387 tests to 9,925 students and 2,124 tests to 1,127 faculty/staff for the period April 19-25, with a total of four positive results.

Duke Health Pauses Use of J&J Vaccines

Experts cautioned against seeing the six recent cases of serious reactions as a reason to avoid vaccinations

Student Vaccination Requirements for Fall Semester

Dear Colleagues, As you all know, the success of our pandemic response has relied on a number of different approaches for combating COVID-19—social distancing and de-densification, enhanced cleaning and controlled facilities access, restrictions on visitors and events, and the expectations outlined in the Duke Compact.

Vaccines: Herd Immunity, Passports, Reaching the Underserved

Three Duke experts examine pressing vaccination issues for the media

'Today Is a Great Day!' Student Immunizations Get Underway

Video of "Today is a great day!" | Student Immunizations Underway Duke students express their excitement as vaccinations begin for students at Blue Devil Tower.

Duke to Distribute New Federal Emergency Grants for Students

Part of the Coronavirus Response and Relief Supplemental Appropriations Act (CRRSAA), also known as Higher Education Emergency Relief Funds (HEERF II)

Duke Gardens to Begin Phased Reopening Thursday for Duke Faculty, Staff and Students

Video of Cherry Alleé, Sarah P. Duke gardens After a year-long closure because of the COVID-19 pandemic, Sarah P. Duke Gardens plans to reopen in phases beginning April 1, with limited capacity and timed ticketing to ensure best practices for health and safety.